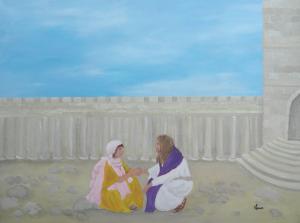 Artist Karen J Jones will be exhibiting her Christian Artwork and books at the Christian Resources Exhibition (Midlands, NEC Birmingham) on 7th and 8th October 2015.

During the exhibition, Karen will be unveiling her latest painting, 'Unconditional Love', which will also feature as a cover image for her forthcoming Christian-themed book, 'Do Not Commit Adultery'.

Her latest work can be viewed online at www.karenjjones.co.uk

Complimentary tickets for the exhibition are available. Please use Karen's website contact form to request one.

Image copyright: Karen J Jones 2015. All rights reserved worldwide.